In this article I will list with pictures all the types of angelfish that exist.
Angelfish are one of the most popular members of the aquarium community. They are hardy, non-picky eaters, and caring for them is relatively easy.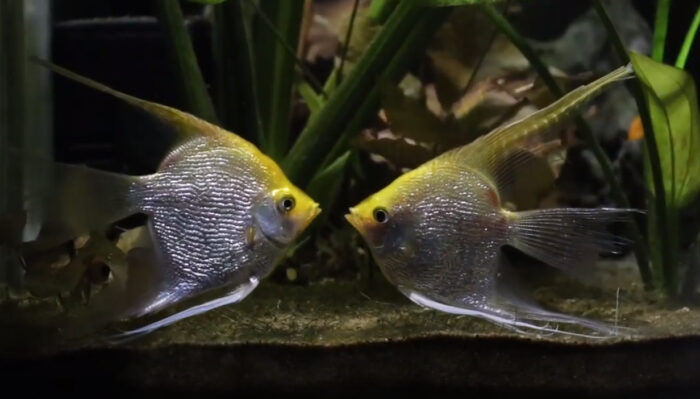 However, it is essential to note that there are two types of Angelfish, which are the freshwater Angelfish and the Saltwater Angelfish.
Freshwater
The freshwater fish belongs to the genus Pterophyllum.
Listed below are all the Angelfish types
Silver Angelfish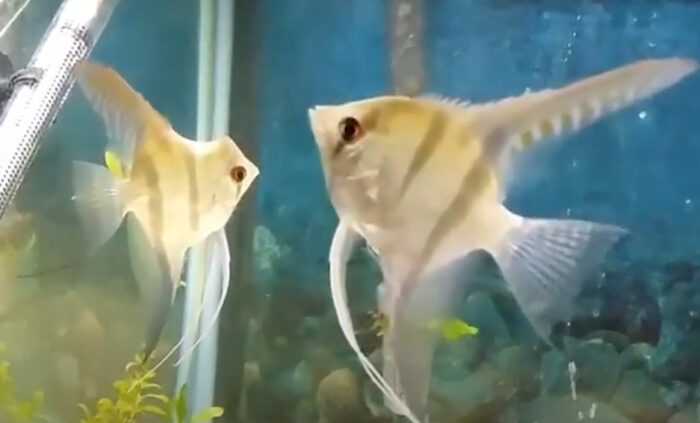 Silver Angelfish are one of the most common types of Angelfish in most places around the world. They are the closest to the wide types in terms of physical appearance. They have three vertical black stripes on their body whose color can darken or deepen depending on mood.
It is easy to care for Silver Angelfish because they are hardy. They can grow up to 6 inches in captivity and 10 inches in the wild.
Koi Angelfish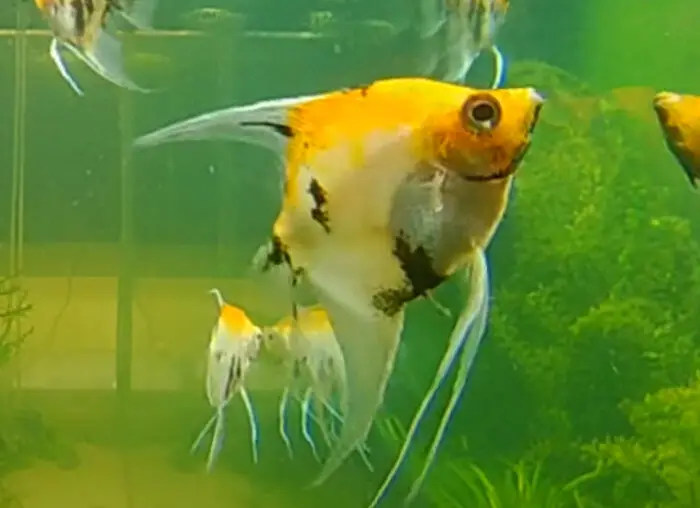 The Koi Angel fish is a type of freshwater Angelfish that has been bred specially for its mottled black and white coloration. Their colorful nature characterizes koi Angelfish. They can have a variety of colors ranging from black orange to gold. Koi Angelfish sometimes have black stripes on their body. The young Koi fish has a red hue below their eyes, but it fades off as they grow.
The orange color of this Angelfish species will darken under higher stress. Koi Angelfish can grow up to 6 inches, and it is fairly easy to care for them.
Zebra Angelfish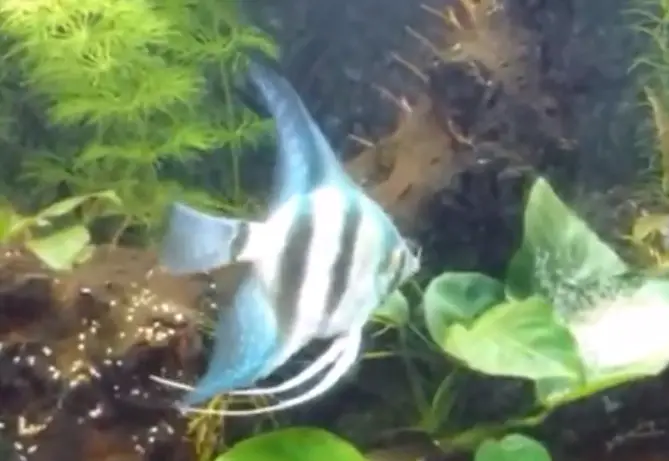 Zebrafish is another variety of Angelfish with stripes. It closely resembles silver Angelfish, but the major difference is the presence of six stripes on the bodies of Zebra Angelfish. They will have red eyes as a sign of full maturity. What makes a zebrafish really special is that it actually has some major organs and tissues as humans. Their muscle, blood, kidney and eyes share many features with the human system.
This Angelfish species can grow up to 6 inches when the conditions are right with them and their average lifespan is three and a half years. Although some could live up to five and a half years.
Blushing Angelfish 
Blushing Angelfish lacks pigmentation on the gill cover known as an operculum, hence its name. Consequently, its gill's red color will be visible, making it appear like a blushing cheek. This Angelfish type is one of the few without stripes and does not have any dusk markings.
The cheeks of blushing Angelfish can either be silver or while with a blood pigmented cheek. This Angelfish species can grow up to 6″ just like most other types of Angelfish.
Black Lace Angelfish 
Black Lace Angelfish is linkable with zebra or silver Angelfish in terms of its physical appearance. The major difference is that they have extra black genes that reflect on their physical appearance. These gene combinations make it one of the most attractive Angelfish among most Aquarists.
The Lace in the name of this Angelfish is evident on their large, elegant fins. They have almost the same size as other Angelfish types as they can grow up to 6″.
Golden Angelfish 
Anything golden is always unique, and the case is not different from Golden Angelfish. Golden Angelfish are unique and rare. Aquarists often crossbreed them with other species to give a uniquely colored specimen.
The general physical description of Golden fish is that they have a light golden body with a darker orange or yellow hue on the crown. They can grow up to 6″ long, and you need to treat them right if you intend to retain their bright and colorful nature.
Altum Angelfish 
Altum Angelfish is one of the unique types of Angelfish because of their physical dimension. It is deeper, flatter, and larger than most other Angelfish species. They can grow up to 9 inches tall and 7 inches long.
Altum Angelfish are generally less hardy than most other species of Angelfish. They are very sensitive to water conditions and water changes, particularly when it is drastic. They also require larger and deeper tanks.
Half-Black Angelfish 
Half-black Angelfish have been identified for half a century. They are one of the most diversified in terms of physical appearance, and they are relatively difficult to care for compared to other types of Angelfish.
These Angelfish Species are darker in their rare region; hence, its name. It can grow up to 6 inches if they have proper and adequate care.
Marble Angelfish 
Marble Angelfish are distinct from the markings on their body. This classic marble Angelfish shows a unique marble body of black, gold, and white. They are particularly attractive because of the dash of gold thrown on their body. Marble Angelfish are opportunistic and eat anything that fits into their mouths. They are usually peaceful but tend to become territorial at the time of breeding.
Marble Angelfish can live ten years or longer and they prefer to be kept in tanks with several of their own species because they can grow up to 6″ like most other members of Angelfish
Veil Angelfish 
Veil Angelfish is not just one of the most common Angelfish; it is also one of the most beautiful. Their long fins and patterned colors usually characterize them. You can keep them with most other types of Angelfish to complement their color.
It is best to pay attention to the temperature in the Veil Angelfish's tank because they are very sensitive to temperature change. They can also grow up to 6″ with proper care.
Albino Angelfish 
Albino Angelfish, just as their name implies, lacks any color on their body. The plain body is linkable to a drastic genetic mutation. However, they have yellow or gold stripes.
Albino Angelfish are very sensitive to diseases. They don't generally live long, regardless of the conditions you provide for them.
Leopard Angelfish 
Leopard Angelfish is not as common as other types of Angelfish, but it is extraordinary in a transparent tank. They are also unique because they have spots instead of stripes.
You will have to provide leopard Angelfish with the required amount of light to retain their pigment and prevent their disappearing spots.
Salt Water
Saltwater Angelfish belong to the family Pomacanthidae.
Listed below are saltwater Angelfish types
Flame Angelfish 
Flame Angelfish is one of the most popular saltwater Angelfish with intense red coloration with black contrast of bars and blue dots. They are excellent community dwellers and are not aggressive towards other members of the tank.
The flame angelfish is known to be shy when introduced to an established aquarium, mostly the smaller specimens, but later on, it gains confidence and is constantly seen grazing around the livestock during the day.  It is easy to care for flame fish, and they can grow up to 3 to 4 inches when the conditions are right.
Keyhole Angelfish 
Keyhole Angelfish have a dark color with a blend of yellow. However, they have a more subdued color compared to other related Angelfish with a blue-black body. They are picky when it comes to their choice of food.
Keyhole Angelfish are relatively more aggressive compared to other Angelfish. They are easy to care for and can grow up to 6 inches.
Bicolor Angelfish 
It is easy to identify Bicolor Angelfish from its name majorly  for their two colors, which are black and yellow. They require medium to large tanks because of their size and territoriality. They can grow up to 6 inches when you take proper care of them.
Bicolor Angelfish are very sensitive, and moderate fluctuations can kill them. Nevertheless, Bicolor Angelfish can grow up to 6″ when the condition suits them perfectly.
Peppermint Angelfish 
Peppermint Angelfish is not only famous for its beautiful colors; it is also famous because it is the most expensive Angelfish. They love deep tanks because they struggle to cope at the surface.
This Angelfish type prefers colder temperature (60-700F) than most other types of Angelfish. Their environmental demand makes them relatively difficult to keep, but they can grow up to 4″ if the conditions are right.
Queen Angelfish 
Queen Angelfish is one of the largest members of the saltwater Angelfish. This Angelfish type is quite difficult to keep because of their large size and picky diet. Queen Angelfish can grow up to 20″ in height and weight approximately 4 pounds in weight.
They can live comfortably in big tanks but will terrorize and bully any tank mate in smaller tanks. They can feed on algae thrown into their tank.
French Angelfish 
French Angelfish are different in fish tanks because of their unique patterns. They usually have a black body with yellow stripes, the black remains while the yellow turn gray as they mature.
French Angelfish can grow so long; thus, they require a spacious tank. This Angelfish type can grow up to 18 inches long under suitable conditions. They are notably flexible in their diet and tank requirements, making them easy to keep.
Emperor Angelfish 
Emperor Angelfish is another impressive member of the Angelfish family. Their physical appearance changes as they grow from young to old. Younger Emperor fish are marbled in white, black, and blue swirls. Matured Angelfish, on the other hand, will have bold blue and yellow stripes.
Emperor Angelfish are semi-aggressive but tend to stay cool when you raise them together. They also require a big tank to reduce the level of their aggressiveness. It can grow up to 16″ under suitable conditions.
Rock Beauty Angelfish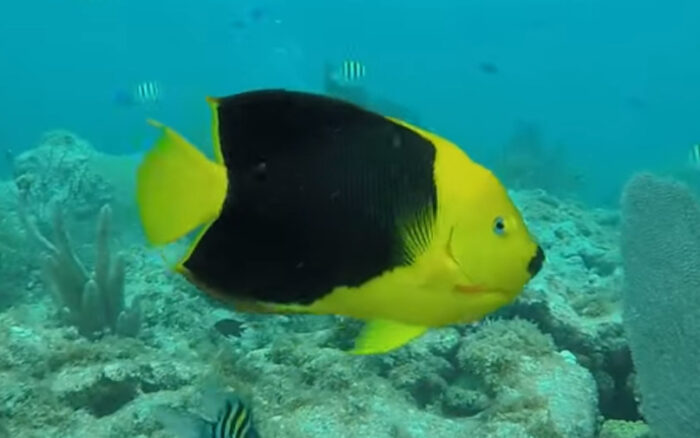 Rock Beauty Angelfish is just as its name implies. They have solid black color at the base of their body with a thick patch of yellow. The major challenge is keeping them in their diet as they are exclusively sponge feeders.
Rock Beauty Angelfish can grow up to 10 inches. They struggle to cope with tank mates because they are semi-aggressive and stressed when bullied.
Blue Girdled Angelfish 
Blue Girdled Angelfish looks like Rock Beauty Angelfish, but the black color in Rock beauty Angelfish is replaced with blue color. They are usually shy but can show a slight level of aggression towards similarly-sized Angelfish.
Blue Girdled Angelfish have moderate size as they can grow up to 10-14 inches. Their best diet combination is a mixture of meaty foods and vegetables.
Lamarck's Angelfish 
Lamarck's Angelfish is another beautiful member of the aquarium. They usually have a glowing blue color with dark patches. They are sexually dimorphic, with the males being larger, have an obvious yellow spot on their head, and black pelvic fins.
This saltwater Angelfish species are quite funny. If you keep two males together, they will spend some time fighting, and the subordinate will change sex and take up the role of a female. Lamarck's Angelfish can grow up to 8 – 10 inches.
Gold Flake Angelfish 
Gold Flake Angelfish are relatively rare, which explains why they are one of the most expensive Angelfish members. Their upper body is largely yellow with few black patches while their lower body has mostly blue-black coloration.
They are relatively hardy when it comes to water and tank requirements, but they are picky eaters. Gold Flake Angelfish can grow up to 8 to 10 inches under the right conditions.
Regal Angelfish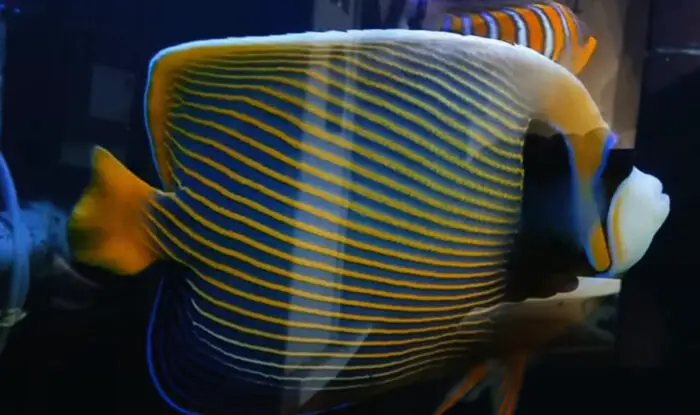 Regal Angelfish are beautiful, and they will add unique colors to your fish tank. The major problem with this Angelfish type is that they are relatively difficult to keep because they find it hard to adapt to life in captivity.
Regal Angelfish are picky eaters, and they can only cope with exclusively peaceful fish. They also need an ample hiding space and can grow up to 8 to 10 inches if you do well enough to keep the conditions optimal.
Black Nox Angelfish 
Black Nox Angelfish also known as Black Pygmy Angelfish or Midnight Angelfish is a dwarf species of marine Angelfish remarkable for its midnight black color that remains evident even at full maturity. It is one of the most peaceful members of the Angelfish genus and can cope with various other fish.
Black Nox Angelfish is moderately sized and can grow up to 4 inches. They are easy to care for because they are hardy and non-picky eaters. The Midnight Angelfish needs at least 70 gallon tank with lots of hiding places. It should be the only dwarf Angelfish in the tank.